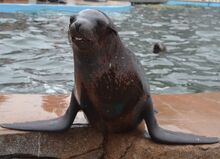 Zeus
is a male California Sea lion at Brookfield Zoo in Chicago, Illinois.  He was born early in the morning on March 6, 2015 to his mother,
Sonoma
, and is the result of a special breeding partnership between
Oceans of Fun
and the Chicago Zoological Society.
At birth, Zeus weighed in at 18 pounds.  He currently weighs around 100 pounds and will not reach his full maturity until he is 10 years old.
Zeus spent his first two years of life with our colony in Milwaukee growing, playing with his big sister, and starting his formal training. In early April of 2017, Zeus was transferred to the Chicago Zoological Society in Brookfield, IL. The collaboration between accredited zoological institutions, like Oceans of Fun and the Chicago Zoological Society, plays a critical role in the conservation of species through ensuring genetic diversity amongst populations in our care. Accredited facilities are a network of animal care teams dedicated to providing exceptional welfare which includes a varied breeding program. It is the eventual hope that Zeus will sire a few pups of his own. Currently this energetic pup has made a smooth transition into the Chicago Zoological Society's population of California sea lions where he can usually be seen romping with his new best friend, Kanuk. Kanuk is a rescued animal who is currently residing at the Chicago Zoological Society but will eventually join the Oceans of Fun family sometime in the future.  For now, you can visit Zeus and Kanuk at the Chicago Zoological Society's Pinniped Point exhibit!
Gallery
Community content is available under
CC-BY-SA
unless otherwise noted.