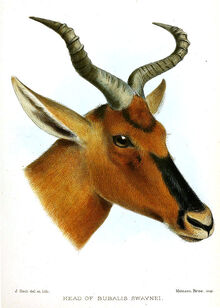 Swayne's hartebeest (Alcelaphus buselaphus swaynei) is an endangered antelope native to Ethiopia. Two of the largest remaining populations are located in Senkelle Swayne's Hartebeest Sanctuary and Maze National Park. It has been extirpated from Somalia. It is named after British officer H. G. C. Swayne (1860–1940).
Community content is available under
CC-BY-SA
unless otherwise noted.