Surinam Horned Frog


Information
Common Name
Amazonian horned frog
Range
South America
Scientific Classification
Kingdom
Animalia
Phylum
Chordata
Class
Amphibia
Order
Anura
Family
Leptodactylidae
Genus
Ceratophrys
Species
Ceratophrys cornuta
Conservation Status

Least Concern
The Surinam Horned Frog is a species from the Ceratophrys genus. It is found in the northern part of South America.
Appearance
It has an exceptionally wide mouth, and has horn-like projections above its eyes.
Behavior
Needs Information
Diet
Needs Information
Lifespan
Adult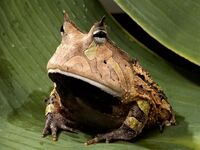 Needs Information
Gallery
Source
Community content is available under
CC-BY-SA
unless otherwise noted.