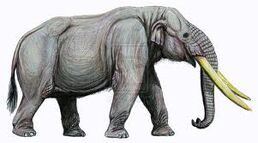 Stegomastodon is a genus of extinct gomphothere that lived in south america during the pleistocene epoch. It lived in a group called a herd, just like elephants do today.
Appearance
Stegomastodon looked like a modern elephant, but its tusks were large and a little longer.
Diet
Stegomastodon ate grass, leaves, tree bark, and roots. The beast used its straight tusks to dig for roots underground.
Community content is available under
CC-BY-SA
unless otherwise noted.