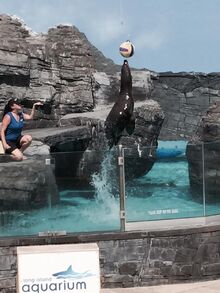 Sea Lion Coliseum is an outdoor exhibit at the Long Island Aquarium proudly sponsored by the Bridgehampton National Bank, and is a 500 seat stadium.
Sea lions, which get their name from their loud roars, barks, and honks, put on a fascinating show whenever they are in the water! Just look through the underwater viewing windows of our Sea Lion Coliseum inside the aquarium to marvel at these graceful swimmers!
You can get indoor views of their pool year-round at the viewing window inside the aquarium.
Sea Lion Coliseum is home to three California Seals lions:
Java (born on June 25, 2001), Bunker (born on June 5, 2001) and Nila who was rescued off the coast of California during a massive sea lion stranding.
Java and Bunker are Half Brother and sister both sharing the same father. They were both born at sea world Orlando in the summer of 2001
The Old Exhibit 2000-2008
The older exhibit was the original design that was built in 1999 along with the rest of the facility.
The Current Exhibit 2009-Present
The current exhibit was a redesign of the old exhibit.
The trainers participate in 3-4 shows a day, a feat that requires trainers to wear many hats. They rotate between announcing the performance, for which they must memorize four different scripts full of fun facts for the audience and cues for another trainer and the sea lion. Another trainer is there to conduct a training session for the animals following the performance, which is open for spectators. In the coliseum where the show takes place, trainers may also assist families with strollers, answer questions about the animals from eager children and help folks find seats before the show.
Here are the names of all 3 seals lions:
| Name | Sex | Origin | Date of birth |
| --- | --- | --- | --- |
| Bunker | F | Born | June 5, 2001 |
| Java | M | Born | June 25, 2001 |
| Nila | F | Rescued | unknown |
Community content is available under
CC-BY-SA
unless otherwise noted.