The Schultze's stream frog (Ptychohyla leonhardschultzei), is a species of frog in the Hylidae family. It is endemic to Mexico. It is only known from the Pacific slopes of the Sierra Madre del Sur in Oaxaca and Guerrero states. Its natural habitats are pine-oak and cloud forests. Schultze's stream frog occurs in or on low vegetation along mountain streams. It is an uncommon species threatened by habitat loss from deforestation and the planting of coffee and other non-timber plantations. Also chytridiomycosis is suspected.
Diet and Habitat
This frog lives in wetlands, in pine forests, and in cloud forests in Mexico.
Other Information
It is threatened by agriculture and aquaculture, logging and wood harvesting, fire suppression, and invasive species.
Gallery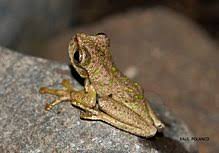 Community content is available under
CC-BY-SA
unless otherwise noted.