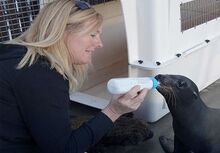 Nalu
is a male California Sea lion at
Oceans of Fun
in Milwaukee, Wisconsin.
At three months of age, Nalu was found alone and stranded on the pacific coast in Santa Barbara, California on September 7, 2013.  He was taken to the Santa Barbara Marine Mammal Stranding center where he received immediate care due to be extremely malnourished and dehydrated.  The cause of his stranding was determined to most likely be separation from his mother.
Being so young, Nalu was deemed non-releasable by the National Marine Fisheries since he was still of nursing age and would need his mother's milk to survive.  He needed around the clock care and bottle feedings every 4 hours since sea lion pups do not being eating fish until they are between 6 and 12 months of age.
Nalu was one of an estimated 1,000 sea lion pups who were stranded on beaches in 2013.  This high number of strandings resulted in the National Marine Fisheries declaring an Unusual Mortality Event (UME) as this alarming number was well above those typically seen in the past.  Stranding centers continue to be overwhelmed by the number of pup strandings and do their best to rehabilitate and release pups back to the wild.  However, when an animal like Nalu is found and cannot be released a placement for them is found.  This is where Oceans of Fun came in! Oceans of Fun was contacted by the National Marine Fisheries Department and accepted their request to provide permanent home to the orphaned sea lion pup.
Nalu, meaning "ocean wave," made a splash with everyone he encountered.  It is with heavy hearts that the animal care team had to say goodbye to Nalu who served as an amazing conservation ambassador.  Nalu helped educate guests about the challenges marine mammals are facing in the wild including exposure to toxins.  Unfortunately, we have seen so many pups strand with Domoic Acid exposure.  While it's unrecognizable, it often proves to be fatal within the first few years of life.  Preliminary tests are leading to exposure to toxins early in life causing Nalu's neurological system to fail.  Sadly, we don't know what a rescued animal's life was like prior to stranding or why they stranded but as an accredited marine mammal facility we can do everything possible to provide them with the best possible welfare while in our care.
For all of us at Oceans, who gave so much to this special little pup, this is a tremendous loss. Nalu won all of our hearts with his gentle, lovable personality. While we didn't understand his early challenges in the wild, he enjoyed a wonderful life with us thriving with his pinniped friends and loving every interaction with his trainers. He will forever hold a very special place in our hearts and his story will continue to educate on the dangers marine mammals are facing today.
Community content is available under
CC-BY-SA
unless otherwise noted.