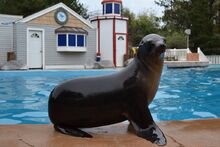 Moana is a female California Sea Lion that lives at Oceans of Fun at Milwaukee County Zoo in Milwaukee, Wisconsin.
Moana was found trapped in a storm sewer very lethargic, cold, and alone.  The Pacific Marine Mammal Center was able to rescue her and estimate that she was only about four months old.  California sea lions will nurse from their mothers for 6-12 months but her mother was nowhere to be found.  She was given around the clock care and bottle fed until she was able to begin consuming fish.   
Due to her young age, she lacked the necessary skills to be successful foraging for food on her own.  She was then deemed non-releasable and Oceans of Fun was contacted to provide her with a home.  Moana would not have survived in the wild and is very fortunate to receive a second chance at life in her new home at Oceans of Fun in Milwaukee.  Her case is not unique and since January 2015 over 7,000 California sea lions have stranded in what the National Oceanic and Atmospheric Association has deemed an Unusual Mortality Event or UME. 
Community content is available under
CC-BY-SA
unless otherwise noted.