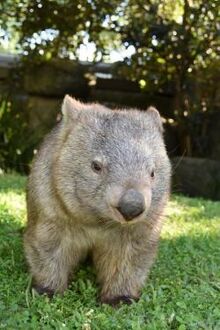 Kato is a female common wombat that lives at Australia Zoo located in the Australian state of Queensland on the Sunshine Coast near Beerwah/Glass House Mountains.
Born at Australia Zoo in November 2003, she absolutely loves scratches from the keepers, but can get a little demanding when the attention stops.
She also loves her daily walks, and if she isn't waiting at the gate asking to be taken out, all it takes is a rattle of the harness and she'll come running! She loves posing for photographs so much that she often gets taken to meet guests on our VIP tours, happily munching away on corn while the photos are taken with a look of pure bliss on her face!
Community content is available under
CC-BY-SA
unless otherwise noted.