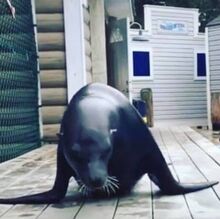 Kanuk is a male rescued California Sea lion that lives at Oceans of Fun at the Milwaukee County Zoo in Milwaukee, Wisconsin.
Kanuk was found stranded, malnourished, and dehydrated off the coast of San Pedro, California. He was one of thousands of starving pups struggling to survive. 
He was taken in by the Marine Mammal Care Center where he was rehabilitated and released. Shortly after his release, he stranded again but was unable to forage and survive independently in the wild. Once again rescuers ensured his health and released him with a group of sea lion pups for one more chance. When Kanuk stranded for a third time, the National Oceanic and Atmospheric Administration (NOAA) deemed him non-releasable. While it is not entirely clear why he stranded, scientists believe that rising ocean temperatures driving fish populations farther away from shore are making it increasingly difficult for marine life to find food. Due to his young age, Kanuk lacked the necessary foraging skills needed for survival. Accredited zoological facilities are working with NOAA and the receiving stranding centers to ensure care, food, medicine, and - when needed - forever homes to marine mammals unable to survive in the wild. In 2015, Ocean Connections was one of several facilities called upon for assistance. In partnership with the Chicago Zoological Society, Kanuk along with a second sea lion (Kodiak) were provided a second chance at life. As these two sea lions were very young and already friends, it was decided that in their best interests they should be able to stay together. Ocean Connections and the Chicago Zoological Society worked together to transport both animals back to Brookfield Zoo. While they have rescued numerous animals needing a second chance, it is always done knowing that there may be health related consequences which contributed to their failure to survive in the wild. 
In 2017 Oceans of Fun unfortunately had to say goodbye to the second sea lion, Kodiak, who passed away due to complications resulting from extreme starvation at a very young age. The damage to his vital organs was too severe to correct. With the loss of his friend, it was time for Kanuk to meet his new family at Ocean Connections. On September 10, 2018 the Brookfield Zoo and Ocean Connections animal care teams transported Kanuk up north to his forever home here in Milwaukee. The last month has been spent meeting new friends, building relationships, and ensuring Kanuk's successful acclimation into his new place.
Community content is available under
CC-BY-SA
unless otherwise noted.