Jurassic World: Dominion Dominates Fandom Wikis - The Loop
Play Sound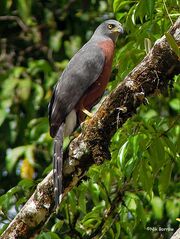 The term Hawk is used in the common names of birds in various parts of the world often use hawk in the second sense. For example, the Osprey or "fish hawk"; or, in North America, the various Buteo species. It also may refer to the following:
In strict usage in Australia and Africa, to mean any of the species in the subfamily Accipitrinae, which comprises the genera Accipiter, Micronisus, Melierax, Urotriorchis and Megatriorchis. The large and widespread Accipiter genus includes goshawks, sparrowhawks, the Sharp-shinned Hawk and others. These are mainly woodland birds with long tails and high visual acuity, hunting by sudden dashes from a concealed perch.
More generally (especially in North America) to mean falcons or small to medium-sized members of the Accipitridae—the family which includes the "true hawks" as well as eagles, kites, harriers and buzzards.
Loosely, to mean almost any bird of prey outside of the order Strigiformes (owls)
The word 'hawk' is from Middle English hauke which is from Old English hafoc which is descended from Proto-Germanic *habukaz which is ultimately from Proto-Indo-European *keh₂p- meaning "seize".