We're Getting Mutants in the MCU - The Loop
Play Sound
The Grey Reef Shark is a species from the Amblyrhynchos genus. The grey reef shark (Carcharhinus amblyrhynchos, sometimes misspelled amblyrhynchus or amblyrhinchos) is a species of requiem shark,family Carcharhinidae. One of the most common reef sharks in the Indo-Pacific, it is found as far east as Easter Island and as far west as South Africa. This species is most often seen in shallow water near the drop-offs of coral reefs. The grey reef shark has the typical "reef shark" shape, with a broad, round snout and large eyes. This species can be distinguished from similar species by the plain or white-tipped first dorsal fin, the dark tips on the other fins, the broad, black rear margin on the tail fin, and the lack of a ridge between the dorsal fins. Most individuals are less than 1.9 m (6.2 ft) long.
Grey reef sharks are fast-swimming, agile predators that feed primarily on free-swimming bony fishes and cephalopods. Their aggressive demeanor enables them to dominate many other shark species on the reef, despite their moderate size. Many grey reef sharks have a home range on a specific area of the reef, to which they continually return. However, they are social rather than territorial. During the day, these sharks often form groups of five to 20 individuals near coral reef drop-offs, splitting up in the evening as the sharks begin to hunt. Adult females also form groups in very shallow water, where the higher water temperature may accelerate their growth or that of their unborn young. Like other members of its family, the grey reef shark is viviparous, meaning the mother nourishes her embryos through a placental connection. Litters of one to six pups are born every other year.
Appearance
The grey reef shark has a streamlined, moderately stout body with a long, blunt snout and large, round eyes. There are 13–14 tooth rows on each side of both jaws (usually 14 in the upper and 13 in the lower). The upper teeth are triangular with slanted cusps, while the bottom teeth have narrower, erect cusps. The tooth serrations are larger in the upper jaw than in the lower. The first dorsal fin is medium-sized, and there is no ridge running between it and the second dorsal fin. The pectoral fins are narrow and falcate (sickle-shaped).
The coloration is grey above, sometimes with a bronze sheen, and white below. The entire rear margin of the caudal fin has a distinctive, broad, black band. There are dusky to black tips on the pectoral, pelvic, second dorsal, and anal fins. Individuals from the western Indian Ocean have a narrow, white margin at the tip of the first dorsal fin; this trait is usually absent from Pacific populations. Grey reef sharks that spend time in shallow water eventually darken in color, due to tanning. Most grey reef sharks are less than 1.9 m (6.2 ft) long. The maximum reported length is 2.6 m (8.4 ft) and the maximum reported weight is 33.7 kg (74.3 lb).
Behavior
Grey reef sharks are active at all times of the day, with activity levels peaking at night. At Rangiroa, groups of around 30 sharks spend the day together in a small part of their collective home range, dispersing at night into shallower water to forage for food. Their home range is about 0.8 km2 (0.31 sq mi). At Enewetak in the Marshall Islands, grey reef sharks from different parts of the reef exhibit different social and ranging behaviors. Sharks on the outer ocean reefs tend to be nomadic, swimming long distances along the reef, while those around lagoon reefs and underwater pinnacles stay within defined daytime and night-time home ranges. Where there are strong tidal currents, grey reef sharks move against the water: towards the shore with the ebbing tide and back out to sea with the rising tide. This may allow them to better detect the scent of their prey, or afford them the cover of turbid water in which to hunt.
There is little evidence of territoriality in the grey reef shark; individuals will tolerate others of their species entering and feeding within their home ranges. Off Hawaii, individuals may stay around the same part of the reef for up to three years, while at Rangiroa, they regularly shift their locations by up to 15 km (9.3 mi). Individual grey reef sharks at Enewetak become highly aggressive at specific locations, suggesting they may exhibit dominant behavior over other sharks in their home areas.
Sociality
Grey reef sharks often group together during the day, such as this aggregation at Jarvis Island.
Off Enewetak, grey reef sharks exhibit different social behaviors on different parts of the reef. Sharks tend to be solitary on shallower reefs and pinnacles. Near reef drop-offs, loose aggregations of five to 20 sharks form in the morning and grow in number throughout the day before dispersing at night. In level areas, sharks form polarized schools (all swimming in the same direction) of around 30 individuals near the sea bottom, arranging themselves parallel to each other or slowly swimming in circles. Most individuals within polarized schools are females, and the formation of these schools has been theorized to relate to mating or pupping.
[edit]Threat display
The posture of a grey reef shark during normal swimming (right) and a threat display (left) - the bottom line shows the shark's swimming pattern.
While holding this posture, the shark swims with a stiff, exaggerated side-to-side motion, sometimes combined with rolls or figure-8 loops. The intensity of the display increases if the shark is more closely approached or if obstacles are blocking its escape routes, such as landmarks or other sharks. If the diver persists, the shark will either retreat or launch a rapid open-mouthed attack, slashing with its upper teeth.
Most observed displays by grey reef sharks have been in response to a diver (or submersible) approaching and following it from a few meters behind and above. They also perform the display towards moray eels, and in one instance towards a much larger great hammerhead (which subsequently withdrew). However, they have never been seen performing threat displays towards each other. This suggests the display is primarily a response to potential threats (i.e. predators) rather than competitors. As grey reef sharks are not territorial, they are speculated to be defending a critical volume of "personal space" around themselves. Compared to sharks from French Polynesia or Micronesia, grey reef sharks from the Indian Ocean and western Pacific are not as aggressive and less given to displaying.
Diet
Grey reef sharks feed mainly on bony fishes, with cephalopods such as squid and octopus being the second-most important food group, and crustaceans such as crabs and lobsters making up the remainder. The larger sharks take a greater proportion of cephalopods. These sharks hunt individually or in groups, and have been known to pin schools of fish against the outer walls of coral reefs for feeding. They excel at capturing fish swimming in the open, and they complement hunting whitetip reef sharks, which are more adept at capturing fish inside caves and crevices. Their sense of smell is extremely acute, being capable of detecting one part tuna extract in 10 billion parts of sea water. In the presence of a large quantity of food, grey reef sharks may be roused into a feeding frenzy; in one documented frenzy caused by an underwater explosion that killed severalsnappers, one of the sharks involved was attacked and consumed by the others.
Lifespan
The life span is at least 25 years
Gallery
Videos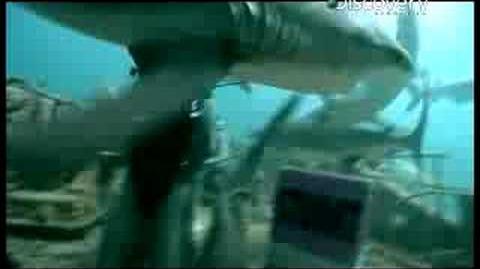 Facts