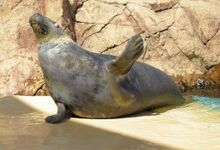 Gray Beauty
is a female gray seal at the Long Island Aquarium in Riverhead, New York. She was rescued in 1997, by the Riverhead Foundation for Marine Research and Preservation in East Hampton, NY. She was very thin, weighing only 104.7 lbs, and was diagnosed with a respiratory infection and chronic cataracts in both eyes.
Veterinarian Ophthalmologist, Dr. John S. Sapienza decided that surgery was not recommended. The Foundation treated her for the infection and nursed Gray Beauty back to health. The National Marine Fisheries Service deemed her non-releasable due to the fact that she was blind. She was held and cared for by the Riverhead Foundation until a permanent home could be found.
In October 2000, a husbandry and training program was initiated to prepare her to be placed into the seal exhibit. This was the first of several steps to relocate her to a permanent home at the Long Island Aquarium. One year later, after further preparation in a pool behind the scenes, she was moved into a holding pool within the outdoor seal exhibit. Since then Gray Beauty spends her days playing with the other seals.
Scar tissue and chronic cataracts cause the white and red colorizations of Gray Beauty's eyes. Though blind, she uses her whiskers to feel her way around the exhibit.
Gallery
Community content is available under
CC-BY-SA
unless otherwise noted.