Drosophila (/drəˈsɒfɪlə, drɒ-, droʊ-/[1][2]) is a genus of flies, belonging to the family Drosophilidae, whose members are often called "small fruit flies" or (less frequently) pomace flies, vinegar flies, or wine flies, a reference to the characteristic of many species to linger around overripe or rotting fruit. They should not be confused with the Tephritidae, a related family, which are also called fruit flies (sometimes referred to as "true fruit flies"); tephritids feed primarily on unripe or ripe fruit, with many species being regarded as destructive agricultural pests, especially the Mediterranean fruit fly. One species of Drosophila in particular, D. melanogaster, has been heavily used in research in genetics and is a common model organism in developmental biology. The terms "fruit fly" and "Drosophila" are often used synonymously with D. melanogaster in modern biological literature. The entire genus, however, contains more than 1,500 species[3] and is very diverse in appearance, behavior, and breeding habitat.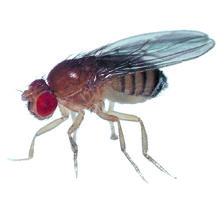 Scientific classification
Kingdom:
Animalia
Clade:
Euarthropoda
Class:
Insecta
Order:
Diptera
Family:
Drosophilidae
Subfamily:
Drosophilinae
Genus:
Drosophila


Fallén, 1823
Drosophila species are found all around the world, with more species in the tropical regions. Drosophila made their way to the Hawaiian Islands and radiated into over 800 species.[4] They can be found in deserts, tropical rainforest, cities, swamps, and alpine zones. Some northern species hibernate. Most species breed in various kinds of decaying plant and fungal material, including fruit, bark, slime fluxes, flowers, and mushrooms. The larvae of at least one species, D. suzukii, can also feed in fresh fruit and can sometimes be a pest.[5] A few species have switched to being parasites or predators. Many species can be attracted to baits of fermented bananas or mushrooms, but others are not attracted to any kind of baits. Males may congregate at patches of suitable breeding substrate to compete for the females, or form leks, conducting courtship in an area separate from breeding sites.
Several Drosophila species, including D. melanogaster, D. immigrans, and D. simulans, are closely associated with humans, and are often referred to as domestic species. These and other species (D. subobscura, Zaprionus indianus[6][7][8]) have been accidentally introduced around the world by human activities such as fruit transports.
Community content is available under
CC-BY-SA
unless otherwise noted.