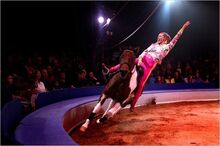 Christine Zerbini
is an American equestrian and circus performer.
Although she was born and raised in the United States, Christine Zerbini comes from an old French circus family with Italian roots. The Zerbinis were already active in the nineteenth century: One of them, referred to in circus chronicles simply as Zerbini, acquired a good degree of fame as an excellent jockey. Christine grandfather, Charles, ran a circus in France, which was also very popular in North Africa—in what were then French colonies.
Christine's father, Tarzan Zerbini, came to the United States in the 1950s with his lion and tiger cage act for an engagement with the Mills Bros. Circus. He never left: In time, he created his own circus, which still tours successfully in the United States and Canada. Christine's siblings have also maintained the family tradition; one of them, Sylvia, is a world-renowned aerialist and equestrienne.
Christine trained in a wide range of circus disciplines in her father's circus, but her true passion was working with horses. She met her husband, Sultan Kumisbayev, while performing with Ringling Bros. and Barnum & Bailey: Christine worked in a sway pole act, and Sultan was a member of a Cossack-riding troupe from Kazakhstan. Their common love of horses drew them together, and they eventually created their own equestrian acts. They were featured at the Big Apple Circus in two productions from 2008 to 2010.
Gallery
Community content is available under
CC-BY-SA
unless otherwise noted.