The Blue-crowned hanging parrot (Loriculus galgulus), is a species of small (length: 13 cm (5.1 in) mainly green parrot found in forested lowlands in southern Myanmar and Thailand, Malaya, Singapore, and Indonesia (Sumatra, Java, Borneo).
Description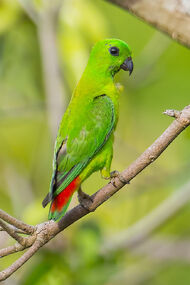 Blue-crowned hanging parrots are mostly green and the adults have black beaks. Adult males have a blue crown, red throat, red rump, and a yellow lower back. Adult females are duller than males and lack the yellow lower back, usually lack the red throat, and the blue crown is much less noticeable. The juvenile is duller than the female, and has a grey forehead and horn-colored beak.
Behavior
Breeding
Blue-crowned hanging parrots nest in tree cavities.Here's a short video of a female exploring a cavity are usually three eggs in a clutch. The female incubates the eggs for 20 days and the chicks leave the nest about 33 days from hatching.
Feeding
Its diet includes flowers, buds, fruits, nuts, and seeds.
Community content is available under
CC-BY-SA
unless otherwise noted.