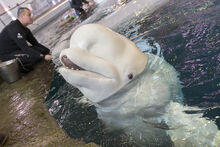 Beethoven
is a male beluga whale at the Shedd Aquarium in Chicago, Illinois. He was born on August 8, 1992 at SeaWord San Antonio.
The 25-year-old beluga is a standout at 14 feet and 1,800 pounds, with gray dots and dashes, like Morse code, along his otherwise snowy white sides. He arrived in mid-October as part of the North American beluga breeding cooperative and was most recently at Georgia Aquarium. Beethoven is acclimating well to his new surroundings and developing relationships with the trainers and veterinarians. And he's interacting with all the other belugas regularly, a good sign that he is comfortable at Shedd and with the whale group.
Beethoven is also making sweet music, although all belugas do, with their chirps, squeals, clicks and other vocalizations that earned them the nickname "canaries of the sea."
The engaging belugas are also among the best ambassadors for Shedd's mission to connect people to the living world and inspire them to make a difference. In concert with the other seven belugas at Shedd, Beethoven will help educate millions of guests about why they should care about animals and the global ocean, and what they can do to ensure both are protected and preserved for years to come.
Visit soon to meet Beethoven. You might see him taking part in training sessions during the daily aquatic shows in the Abbott Oceanarium. We think you'll agree: Beethoven is a classic addition!
Community content is available under
CC-BY-SA
unless otherwise noted.