The babirusas, also called deer-pigs (Indonesian: babirusa) are a genus, Babyrousa, in the swine family found in Wallacea, or specifically the Indonesian islands of Sulawesi, Togian, Sula and Buru. All members of this genus were considered part of a single species until 2002, the babirusa, B. babyrussa, but following that, was split into several species. This scientific name is restricted to the Buru babirusa from Buru and Sula, whereas the best-known species, the north Sulawesi babirusa, is named B. celebensis. The remarkable "prehistoric" appearance of these mammals is largely due to the prominent upwards incurving canine tusks of the males, which actually pierce the flesh in the snout.
All species of babirusa are listed as threatened by the International Union for Conservation of Nature (IUCN), shown on their Red List since at least 2010 and current in 2017.
Appearance
Babirusa are notable for the long upper canines in the males. The upper canines of male babirusa emerge vertically from the alveolar process, penetrating through the skin and curving backward over the front of the face and towards the forehead. The lower canines also grow upwards. The canines of the female are either reduced or absent. The structure of the male's canines vary by species. In the golden babirusa, the upper canines are short and slender with the alveolar rotated forward to allow the lower canines to cross the lateral view. The Togian babirusa also has the same characteristics and the upper canines always converge. The North Sulawesi babirusa has long and thick upper canines with a vertically implanted alveolar. This caused the upper canines to emerge vertically and not cross with the lower canines. Babirusa also vary by species in other characteristics. The golden babirusa has a long, thick pelage that is white, creamy gold, black or gold overall and black at the rump. The pelage of the Togian babirusa is also long but not as that of the golden babirusa. The Togian babirusa has a tawny, brown or black pelage that is darker on the upper parts than in the lower parts. The North Sulawesi babirusa has very short hair and appears bald. The female babirusa has only one pair of teats.
Species
Buru babirusa (B. babyrussa), also known as the hairy or golden babirusa
Bola Batu babirusa (B. bolabatuensis), proposed species
North Sulawesi babirusa (B. celebensis), also known as the Sulawesi babirusa
Togian babirusa (B. togeanensis)
B. babyrussa beruensis was described as an extinct, Pleistocene subspecies from southwestern Sulawesi before babirusas were split into multiple species.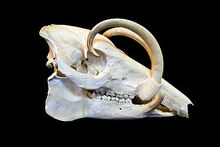 Community content is available under
CC-BY-SA
unless otherwise noted.