Archaeopteryx is a primitive bird-like dinosaur from Europe. This amazing animal is an ancestor of all birds of the air and land and water.
Appearance
It lived in the Jurassic period and had sharp claws and sharp teeth for crushing bugs.
Behavior
It soared from tree to tree, it was a great flyer. That helped the Archeaopteryx escape from other dinosaurs.
Diet
It was an insectivore, which means it ate lots of bugs.
Lifespan
Needs Information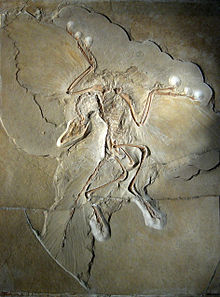 Facts
Torvosaurus was one of the predators of this feathered insectivore.
Archaeopteryx was really the link between theropod dinosaurs and birds.
Community content is available under
CC-BY-SA
unless otherwise noted.