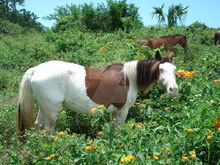 The Abaco Barb is an endangered strain of Colonial Spanish Horse found on Great Abaco Island in the Bahamas. The Abaco Barb is said to be descended from horses that were shipwrecked on the island during the Spanish colonization of the Americas and the Caribbean. The population of wild Abaco Barbs that run free on Great Abaco once numbered over 200 horses. The Abaco Barb is found in colors that are different from those of the European/African Barb, including pinto (including the relatively uncommon splashed white), roan, chestnut, black and other colors. They range between 1.32 to 1.47 m (13.0 to 14.2 h).
Beginning in the 1960s, several events led to a decline of the breed, including the paving of new roads through or near their territory, which caused more conflict with humans; dogs brought in to chase boars going after horses instead, resulting in hunters shooting horses, and wild dogs killing foals.
Some Abaconians intervened and brought the three surviving horses to a farm near Treasure Cay. The herd increased to 35. Since 1992, however, over half the horses have died. No foals have been born since 1998. (There was one spontaneous abortion and one fetus aborted for unknown reasons.) By early 2010, the herd had diminished to six. As of August 2013, only one horse remained: one mare living inside the preserve. In February 2014, it was announced eggs would be harvested from mare.
An Abaco Barb stallion, Capella, was the model for a 2005 Breyer horse sculpture honoring the breed, as part of a broad-based publicity campaign to build support for preservation.